There's so much about the genocide that I just can't get my head around. How did it come to be? Why were the west so slow in responding? How can we prevent it happening again? (can we? Current happenings in Syria make me think maybe we can't). There was a lot of information to read as you make your way around the Genocide Memorial but I was still left with more questions than answers. This
led me to the gift shop
there where they sell a healthy number of titles about the genocide.
I bought a couple. What did I buy? What have I read? Why did I choose these ones? Well…
Guns Over Kigali
by
Henry Kwami Anyidoho
.
Anyidoho was a Major General in the Ghanian contingent of UNAMIR (United Nations Assistance Mission for Rwanda) and served as the Deputy Commander of the mission, under Canadian General Romeo Dallaire.
I'm Not Leaving
by
Carl Wilkens
Wilkens was a US (religious) charity worker who remained behind in Kigali during the genocide (his family were able to leave but he chose to stay).
An Ordinary Man
by
Paul Rusesabagina
& Tom Zoellner
Rusesabagina, a Hutu, became the hotel manager at Hotel Mille Collines. This biography became the basis for the movie, Hotel Rwanda.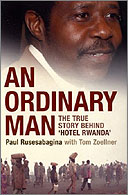 With so many books to choose from, it was pretty hard to narrow it down at the shop. My reasons for choosing the first two were that they were both slim (my luggage was already near capacity) and have had quite small print runs. I wasn't sure I'd be able to pick them up elsewhere. I also liked the contrasting points of view – a UN worker and a charity worker. I chose An Ordinary Man because whilst I had not yet seen the movie, Hotel Rwanda, I was familiar with the story and wanted to read more about it.
All books make for interesting reading. Heartening at times, as heartening as a story may be with the genocide as backdrop. The writing styles as well as the stories to be told are very very different though.
Anyidoho has been in the military his entire adult life and from memory, has studied military writing. His account is factual based and in time sequence. It provides an insight into the struggles UNAMIR faced on the ground in Kigali and the support they were sometimes left wanting from the UN in New York. It is no secret that there were serious shortcomings in the UN's handling of Rwanda. As well as covering the genocide, Anyidodo spends time making suggestions for future missions.
Wilkens is a charity worker who is able to evacuate his family but he himself refuses to leave. Using his contacts in the Red Cross and the UN, he is able to provide assistance to Rwandans throughout the genocide. His account is a far more personal account of the genocide. Of what he witnessed and how he reacted. Almost journal like at times, much of it comes from the cassette recordings Wilkens made for his family, should he not survive.
Rusesabagina's story is probably one of the most well known, thanks largely to the movie. I probably found this the easiest of the three books to read and is the only one of the three by a Rwandan. It begins with hearing about Rusesabagina upbringing in rural Rwanda and provides a lot of context but more from a personal point of view than Anyidoho sets out to do.
Of course, there are many other books on this topic, some of which I hope to read. General Romeo Dallaire's
Shake Hands with the Devil
is probably next on my list. Some of my fellow travellers had read this and heavily recommended it but warned that it was heavy going. That, and it being the size of a telephone book, are the main reasons I am yet to read through it.
Have you got any other book suggestions for me on this topic? Biographies and autobiographies are one of my favourite styles of books.